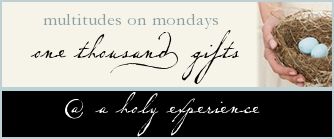 Another year wiser...I pray.
Blessed better than I deserve. Rich with family, breath, friends and a warm home. Any food I could dream up, shoes on my feet and cars that faithfully take me about.
As a continual act of worship I count my gratitude with a posse of other women over at Ann with out the fanciful 'e''s place. Join us...
Grab and run
Comrades that become sisters then love on my family

Friends that will drive 150+ miles to celebrate my life

Mascara that promises great things

Dress up and makeup

Making cute blogs HERE
Free Pretty Things for your blog

Cakes that look like cupcakes

"Do you have any questions"..."Yes I was wondering where your dressing room is"..."Oh I don't work here I was just wondering if you had questions"....lol

"Honey, when I said to bring over a hot dish, I was not talking about a green bean casserole."

Flowers Flowers everywhere