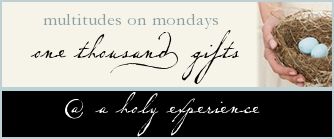 N
ormally I walk through my week pondering the rhythm of life, family and work. I count the endless ways I'm so blessed so that on the weekend, when I sit to write for my Monday post, it really hits deep at the heart of all that moves me.
Last week found me carried away with concerts, work, and a ton of extracurriculars so that I didn't even get to pen one thought. We who find our center through written words can feel strain when time does not allow to unload on this glowing
These last two weeks have been filled with great laughter. I enjoy my children being 15 & 17. Between them and my husband I'm in stitches quite often. My kids are always showing us the latest/funniest youtube videos.
So though part of me feels like I digress, I look at the title of my blog and it reminds me that LAUGHTER IS MEDICINE FOR THE SOUL. I mean it's even in His Word!
#59 So this week
I give my kuddos to
LAUGHTER!! Scroll down to the bottom of my blog, pause the music player and come back up here to enjoy some crazy, random and mind emptying videos that are just silly.