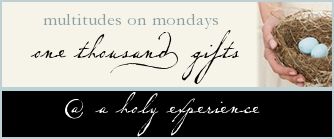 "We ought to give thanks for all fortune: if it is good, because it is good, if bad, because it works in us patience, humility and the contempt of this world and the hope of our eternal country"
C.S. Lewis
A

s usual I was blog surfing (a guilty pleasure like chocolate) and was drawn into words. A quote at

"The Glorious deeds of Christ" and my thoughts wakened.
"Christian gratitude begins at the cross. We were God's enemies, we despised His call on our lives and His claim on our hearts. The Holy Spirit reached out to us:
he convicted, he wooed, he drew, he convinced us of the Father's love for us.
We melted under his influence recognizing that there was nothing in us that deserved saving.
By God's grace, we saw Christ's sacrifice on the Cross as our just punishment for ignoring, violating, and despising God's commands.
We were astonished by Christ's sacrifice:
gratitude overwhelmed us as we saw God's grace acting to deliver us from our self-imposed darkness.
In turn, we met the resurrected Christ, He not only forgave us, but renewed, restored, and healed us.
Astonished gratitude was our only response then and continues our heart's cry now."
Oh how that last line moves me to my knees!
ASTONISHED GRATITUDE WAS OUR ONLY RESPONSE THEN AND CONTINUES OUR HEART'S CRY NOW!
#163-176
Wonderful time with a dear friend worshipping with Jeremy Camp and friends

(for more times than I can remember =)

Getting lost with my family in one of my favorite cities

P O R T L A N D

A mixture of sadness, relief, praise and thanks while holding hands with my sweet father in law as we all decided the time had come to sign on for hospice care.

An extra hour to stay up and watch movies with the fam!

( I love to FALL BACK)

Twittering with my two dearest friends to a conversation that made absolutely no sense.

Kissing my husby until my kiddos squeal and beg us to stop

...( I know they secretly love it)

One tall P U M K I N S P I C E latte for the season

Worshipping next to the sweetest Down's syndrome young lady that sang out with lungs full

Sweet wonderful neighbor, we love how you keep safe our driveway and blow the leaves far so our sweet Betty does not fall

Action Friends

(you know who you are)
Been so blessed to get so many of these. It's like candy! Starbursts to be exact!
Purly sweet she is.
My ♥ Never can I get a normal picture unless I pay a professional
Pumpkin spice Latte...slurp
NEVER tire of Fall's foliage
Don't remember where I found this image? Maybe Ann Voskamp?
"When we learn to read the story of Jesus and see it as the story of the love of God, doing for us what we could not do for ourselves--that insight produces, again and again, a sense of astonished gratitude which is very near the heart of authentic Christian experience."
N.T. Wright