As we move towards a holiday whose theme is love, my eyes fall on a story that so reminds me of God's faithful, unconditional and enduring LOVE for us....
It was a busy morning, about 8:30, when an elderly gentleman in his 80′s arrived at the hospital to have stitches removed from his thumb. He said he was in a hurry as he had an appointment at 9:00 am.
The nurse took his vital signs and had him take a seat, knowing it would be over an hour before someone would be able to see him.
I saw him looking at his watch and decided, since I was not busy with another patient, I would evaluate his wound.
On exam, it was well healed, so I talked to one of the doctors, got the needed supplies to remove his sutures and redress his wound.
While taking care of his wound, I asked him if he had another doctor's appointment this morning, as he was in such a hurry. The gentleman told me no, that he needed to go to the nursing home to eat breakfast with his wife.
I inquired as to her health.
He told me that she had been there for a while and that she was a victim of Alzheimer's Disease. As we talked, I asked if she would be upset if he was a bit late. He replied that she no longer knew who he was, that she had not recognized him in five years now. I was surprised, and asked him, 'And you still go every morning, even though she doesn't know who you are?' He smiled as he patted my hand and said,
'She doesn't know me, but I still know who she is.'
Isn't this story just the P E R F E C T analogy of how our Heavenly Father loves us!
Before we knew Him, He stood by the door, waiting.
We answered His knock and He rejoiced while making a place for us at His table.
When we turned from Him He mourned us and wooed us back to Him.
When we forgot Him He continued to pursue us even though we didn't recognize that it was His tears in the rain
or that the drop of moonlight on our brow was His gentle touch.
We didn't know Him yet He knew us and everyday He came.
Each week I have made a commitment towards a heart of
gratitude
. It is part of my worship to the One who gives me breath.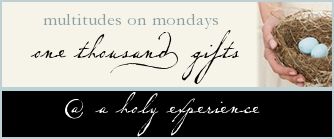 281-293
- Fresh new crisp sheets
- Drenching rains that have slowed
- A sweet patient who held my hand and cried because he missed his dog.
- Getting his dog in the hospital to him =)
- Sweet Betty. From playing rock band to lying in a hospital bed. I love your playful spirit. Home safe and sound now.
- A week of fasting, praying and answered prayer. You prayed Russ and He answered. 3 days of sun proceeded
- So thankful for a lovely family. A family that loves me despite all my shortcomings.
- Even though my body has been failing me this last month I'm still able to work and get to this pc to tap thoughts

- Finding new blogs that inspire
- Hugs
- A relationship that has been broken that is in process of mending after many years of prayer
- The little hospital I call work. They are my second family
- Family night and a movie. Letters to God
- Snuggling up with my man for an episode of House Hunters International