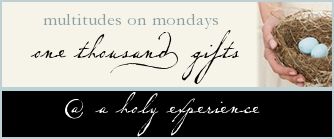 O
nce
again I sit in stillness and contemplate.
I cherish how Ann
(without the
fanciful 'e'
)
pulled the covers back and exposed a thankful heart of praise.
Not only demonstrating how, but engaging us in what I like to call
Operation PURPOSEFUL GRATITUDE!
I'm not going to pretend this is always easy, in fact there are moments as I type away on this keyboard I want to yell, and complain and whine and cry. I'm tired...just posted below, is exactly how I feel in my bones. As though I've been running against gale force winds.
Giving thanks is a purposeful and intentional exercise.
Just as a physical exercise regime will increase heart and lung capacity while toning muscles, purposeful routine exercises in gratitude increases our ability to spot things to be thankful for, endure hardships and strengthen our faith.

On occasion I've heard from the Christian community this msg...
"thanks should flow naturally out of understanding of what He did for us on the cross".
Believe me I am thankful to my inseams for that sacrifice. I am in love with Jesus and this will not change unto death.
However if I'm being honest, that knowledge has not made this Christian woman always grateful for the plate life sets before her.
This very week has spied me grumbling and complaining more than I care to admit. I've been short with my family, friends, co-workers and patients. I've eaten things I know I shouldn't and just plain felt sorry for myself
.
Thank goodness for His grace.
This purposeful exercise of GRATITUDE, family, friends and His word hidden in my heart has pointed me in the direction...In His direction.
Join us in the journey of
INTENTIONAL THANKSGIVING
# 202-216
Hospice (The whole team are angels)

Respite to shop

The caregiver who sat with my father-n-law for the day

New Red lipstick

Random findings on Pintrest

Listening to my daughter play her heart out on her drums

Friends (yes again)

Family

My sweet sons hugs

Watching/listening to my mother in law squeal as my dtr put her electric w/c on high and sped through the mall

My enduringly patient and loving husband

My Christmas tree that looks like a circus hijacked it

Christmas lights at night

Enjoying friends I haven't seen in ages.

Laughter

with this man
whizzing fast