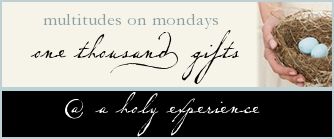 Again I find myself so very grateful for this journey of thanksgiving! This weekly pause of deep breath and thoughtful quiet gratitude.
A week full of laughter, prayer, hugs, tears, joy and sadness.
The purposeful dance of catching precious moments like fireflies.
#116-126
~package in the mail
~holding hands with a dear girlfriend
~One more family movie night (Soul Surfer) such an inspiration you are Bethany Hamilton.
~Celebrating my dad
~Green paint and decorating
~Painful news that breaks my heart. I don't know what to do with it yet. it's in process but I know that I know that my hope is in Him.
~The writings of Oswald Chambers. I fancy meeting him in Eternity.
~Listening from another room as my family plays a board game.
~I love you Dave Ramsey and how you are helping us find financial freedom.
~Colors and scents of fall.
~Football games