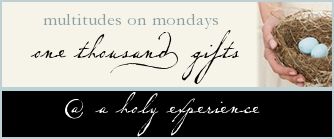 I
t's just shy of a year since I began my "Giving Thanks" journey with
Ann
and her loyal champions of GRATITUDE. As I look back on
that very first post
I clearly remember wondering if I would be able to sustain the ritual.
This journey, as Ann states, has not only opened the eyes of my heart but kept me more attuned to the ways in which
He whispers...
This last week I set out to just capture images with my cell phone where I had a 'pause of thanksgiving'.
The hightlights of my week are as follows:
#139-148
Children that still love to play dress up.
Taking my sweet Betty for a day out on the town
Rushing to get that gallon of milk only to see the most beautiful leaf EVER!
Laughter piping from my (teen) kids as they rifled through the dress up box.
Confident, Spirit inspired prayer melodically pouring from my dear husband over our baby (18yo) girl
The crunch of leaves as I lazily meandered through a farm pondering the stories that old barn could tell
Pincurling sweet Bettys hair
Buying PUMPKINS
Watching a classic B&W movie with my hubby
Hanging out with a bosom buddy sister friend and hearing her adventures
Almost stepped over. In a parking lot lying perfectly. I
stopped and gave thanks!
Ok so I borrowed this from last year but it's so pretty I can't help
myself.
Taking my sweet mum in law to an estate sale. She
shopped I walked around.
Mother in Law still searching for treasures while I walk
about enjoying His creation
SPIRIT WEEK
Would you still be my friend if I looked
like this, day.
Twin day
Sophmore Gold day. Sisters
gold lame pants and fun old sweater.
Sweet Betty